IT Solutions For Business
Our services are not limited to app design and programming; our app company provides our clients with analytics, market research and marketing consultancy to optimise app performance and get the most out of it. We rank among the leading app design and development companies and have an extensive portfolio of projects for the major UK and international enterprises, and for aspiring startups. We would be happy to work with you.
What Benefits Can an App Bring to Your Business?
Mobile applications increase brand awareness; visibility and recognition are essential for business growth. If customers are not aware of your products or services, it means that your client base is close to zero, you have no one to sell to. Mobile apps provide many opportunities to increase brand awareness and boost growth. The average person looks at their smartphone more than 100 times a day. This means that the icons of the apps installed on their devices are burnt into their memory because they see them so many times during the day. Placing your apps icon on a customers menu ensures that they will see your app hundreds of times every day. Such a visibility level is truly impressive, especially if compared to other marketing strategies, and guarantees that customers memorise your branding.
1
Opportunities For Customers
Smartphones and tablets are indispensable tools that accompany us everywhere. Our whole lives are stored inside these small mobile devices. And mobile applications installed on the devices contribute a lot to our daily routine. By inviting your existing and potential customers to try out your app, you will make them a part of a closed community. An app enables you directly communicate with their clients, establish trust and empathy and make each customer feel special.
2
Build Your Reputation
What makes up a good business reputation? Your interaction with their clients, usage of the innovative technologies and, of course, an efficient marketing strategy. Many companies falsely believe that smartphone apps are too expensive and require too many investments to develop and support. They think that only large international corporations with huge amounts of money and employees can afford a quality mobile application.
Best Strategies for Customer Communication
Moreover, we often advise our clients to build a guestbook into their mobile app, where its users will be able to leave comments and reviews. It is an excellent opportunity to get to know your customers and to establish friendly relationships, attending to their problems and receiving favourable reviews,
There are some other ways to connect to your customers:
Email via the application
Bookings and reservations
Event calendars
Content sharing and import from existing photo, video and music services
Newsletter subscription
One-touch call
Web site access.
Affordable App Designers For Small And Large Businesses
Magora guarantees you that our software development services are affordable to small businesses and large corporations alike, and the final results are flawless and highly efficient regardless of the scale of your business. Our applications always pay off in the long run, bring tangible value and enhance your reputation. Business reputation is highly important when it comes to establishing relationships with customers. The higher your status, the more chances you have that the client will take a liking and strike a deal. The client is proud to buy from reputable businesses and is eager to boast about their amazing experience with friends and family.

Create An App And Always Stay In Touch
Undoubtedly, you already have a comprehensive social media marketing strategy. And we totally agree that social media is one of the best platforms to socialise and promote your brand. For that reason, we always equip our applications with social media functionality. You can integrate your Facebook, LinkedIn, Twitter, YouTube, Instagram, blog and so on into your app, which will contribute to its contents and make it very much alive.
Mobile Apps As An Ultimate Tool For Socialisation
Websites have lost their efficiency as platforms that enable businesses to connect with their customer. Nowadays, the key purpose of sites is sharing information. They are mostly secondary tools to sustain moderate growth and retain existing users, rather than to generate some real buzz around your business. As a result, companies have first moved to social media platforms like Facebook, Instagram and LinkedIn. And finally, an entirely new level of socialisation has been reached thanks to mobile apps - mobile app design is the ultimate tool for buzz creation, encompassing all the platforms mentioned. A tablet and smartphone applications incorporate all the best features of websites and social media to keep in touch with customers and reach out to a wider audience.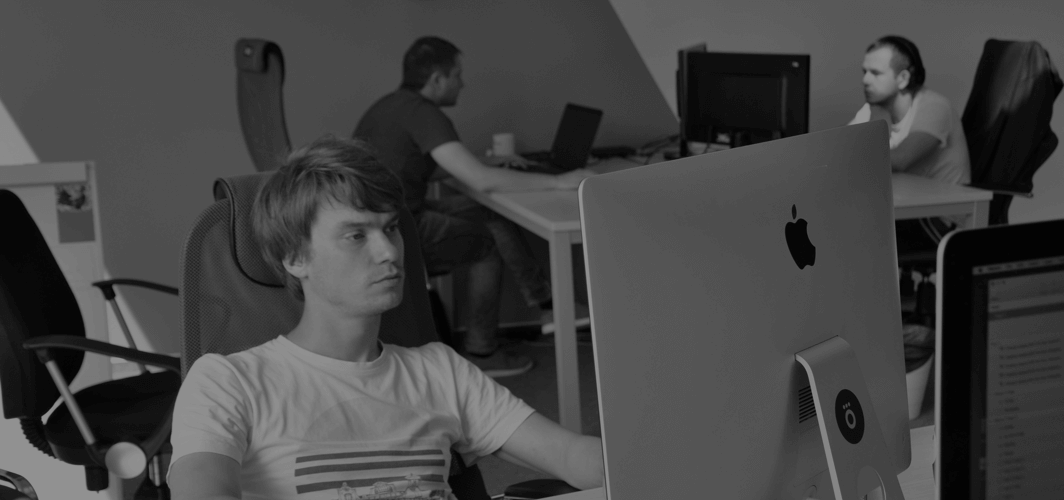 Mobile Commerce
Mobile retailing is a perfect solution for businesses that sell physical products. More and more purchases are made via mobile phones, especially in applications. It is not surprising, given that some two years ago overall mobile usage exceeded desktop internet usage. It is evident that a mobile presence is a must for any business who wish to stand out among the competitors and lay the ground for future expansion. Otherwise, you will miss out the largest part of your potential customers, and the chances are so significant that in the long run, you will lose even your existing audience. Our skilled developers can integrate your existing eCommerce platform into the app, or build a new bespoke system designed specifically for you. We work with all existing shopping cart services, including Shopify, BigCommerce, Magento, Big Cartel, 3dcart, Volusion and more.
Online Retail Solutions
It will be up to your customers where they do their shopping - in your physical shop, on your website on in your application. They will certainly be grateful to you for providing them with such an opportunity. They do not have to set aside some time to go to the actual shop and check out the selection of items to choose the one they like - they can do it directly from the app at any time in any place. Offering this opportunity to your customers, you can be sure that the effort will pay for itself. Providing such a convenient and easy access to your products and services, you make your customers choice to buy from you instead of your competitor just as easy.
Clients
MAGORA - Your App Design Agency
Our app design company staff that has worked on a high number of successful projects for different industries includes many talented specialists, such as:
Graphic designers
Logo designers
UI designers
UX testers
Web designers
Mobile app designers
Web Design Services We Provide
User interface and design are the foundations of the future user experience. We believe that the best mobile apps should be simple yet beautiful, intuitive and efficient. We always make the design of the application similar to your real business persona, or we can create an entirely new branding that customers will recognise and remember.
Our experts provide you with two design concepts for the future product, created by two different teams of UK designers. We thoroughly plan and design every detail of the interface to supply you with a user-friendly and good-looking solution that customers will love.
Contact Us
Our friendly professional developers, designers and consultants are always here to help you bring your business ideas to life and achieve your goals. Share your thoughts with us, and we will do the rest - plan, design, program, deploy and support your product.
We will thoroughly investigate your business and come up with the most efficient strategies to increase your income and boost productivity with the help of our IT solutions. Contact us today if you have any questions or ideas.