Our Principles
Over the ten years in the software development industry, Magora has delivered a great variety of digital solutions for businesses of all sizes. We strive for high quality, advanced technologies and business innovation.
1
Seamless App Development Process
Many years of experience help us find the most efficient approach to software development based on the specific requirements of your company.
2
Professional Team of Talented Developers and Designers
Our forward-minded and dedicated designers and programmers write clear code and create user-friendly interfaces in no time.
3
First-Class Software
We not only create high-quality digital products, we do everything possible to maximise their value for your organisation and advise you on the best strategies to get the most out of our applications.
4
Reputable Developers to Rely On
We believe in close communication with our clients and a fully transparent app development process, which means that you are always informed about what we are doing and why we are doing it.
Interesting Facts About Mobile Apps
2 billion smartphones are used around the globe
224,801 billion times users downloaded applications in 2016
27 apps and average smartphone owner uses per month
50 billion dollars is the number of application revenue increase from 2011 to 2016
Do you Want to Bring Your Business to a New Level?
Whether you want to design a responsive website to establish a strong online presence for your business, build a bespoke software system to integrate the disparate tools and services you use within the enterprise or develop a native mobile application to engage your customers, Magora is ready to help you with the task.
Do you want to design a first-class smartphone app that would represent your brand on the mobile market? Our experienced team of programmers are well-versed in all mobile platforms from iOS to Android and beyond.
Moreover, we deliver applications that look amazing on screens of all sizes and resolutions. The responsive design created by our talented designer and fleshed out by our skilful coders look equally stunning on the smaller displays of mobile phones and larger screens of iOS and Android tablets.
Do you have a limited budget but want your brand to be visible to the users of different platforms? Web applications created by Magora experts utilise web technologies to provide for lower costs and larger audience coverage.
Utilising the most advanced mobile technologies and graphics, we create smartphone games from basic puzzles and platforms to gripping 3D shooters and races.
Whether you need a basic hosting to safely store corporate data or a large system for document management, our hosting solutions can fully address the need of your business.
Each of our clients has a unique opportunity to take advantage of our professional support services. We will keep your software stable and up-to-date and resolve customer issues quickly and efficiently.
How to Register as an Apple Developers
If you want to build a native application for the Apple's mobile operating system iOS all by your own, you need to first sign up for the Apple Developer Program to get your Apple Developer account which comes at a yearly fee of $99. TO become a member of the Apple Developer Program, go to the special page of the Apple's official website. Keep in mind that it may take some time for Apple employees to check all the information about you and accept you as an official iOS developer, so you will need some patience before you will be able to develop applications for iPhone and iPad. If you want to start as soon as possible, do not waste any more time and send your registration info right now to begin working on your project according to your schedule.
Clients
Setting Up Your Apple Developer Account
Once you are registered as an official Apple Developer, you will get access to iTunes Connect. To set up your account and iTunes Connect in order to publish apps to App Store, you will need to perform a few simple actions:
Pay a yearly fee of $99 to get access to iOS development tools and submit your products to App Store;
Log in with the master account to iTunes Connect:

Click "Request for the iOS Paid Applications contract" in the "Contracts, Tax, and Banking"
Click "Request for the iOS Free Applications contract" in the "Contracts, Tax, and Banking"
Enter your banking details in the "Contracts, Tax, and Banking"
How To Get The DUNS Number
You may be asked to enter the DUNS number of your organisation, which means that you will need to get the number from the Dun & Bradstreet that regulates the DUNS system.
You need to register in their database - if you need more details, contact the local office of the D&B and they will help. If your company is located in the UK, you can read about getting the DUNS number on the British D&B website.
Apple Developer UK for Hire
Sounds too difficult? Enlist the help of professional Apple developer UK team to design a beautiful and feature-rich application for iPhone and iPad. With a solid background in building applications for web, Apple, Android and Windows, our team of skilful developers are ready to translate their expertise into your projects, bringing your ideas to life in a form of engaging, user-friendly and business-savvy digital solution. If you want to connect to your customers, enhance the employee productivity within your enterprise or promote your products online, we can supply you with a solution that best fits your business needs and helps you achieve your goals.
We Cater for the Specific Needs of Your Business
Every business has its own unique needs and objectives, that is why we take the time to conduct a research of your internal processes and come up with a full-fledged software requirements specification that prioritise the features of the future product according to the demands of your business. Read about some of the application solutions your company may benefit from.
A simple app with basic functionality typically consists of up to five screens. Apps of this type are not connected to any databases or integrated with third-party services.
Static content
Minimalists designs
Up to five interconnected screens
Do you want to easily edit and updated content within your application or website? Then you need a user-friendly content management system (CMS) developed by Magora. You will be able to access the system from any modern web browser and manage your content through the admin area.
Update your content
User-friendly interface
Unlimited number of screens
If you need your application to handle and process large amounts of data you should integrate it with an external or internal database - that is exactly how our database-driven solutions work.
Process big amount of data
Intuitive interface with analytical widgets
Unlimited number of screens
App icons and graphic design
We will design an icon that will stand out from millions of other applications and create all graphic elements in the style of your business branding.
Continuous technical support
When the application is built and released, we will track user feedback and monitor app's performance to ensure that it is stable and meets the expectations of consumers.
App Store submission and optimisation
Our experts will send your app to the Apple's App Store and optimise its contents to ensure that it gets to the top of the market.
User-friendly, visually appealing design
Magora designer will create a design concept from scratch or base the app's interface on the existing branding of your company.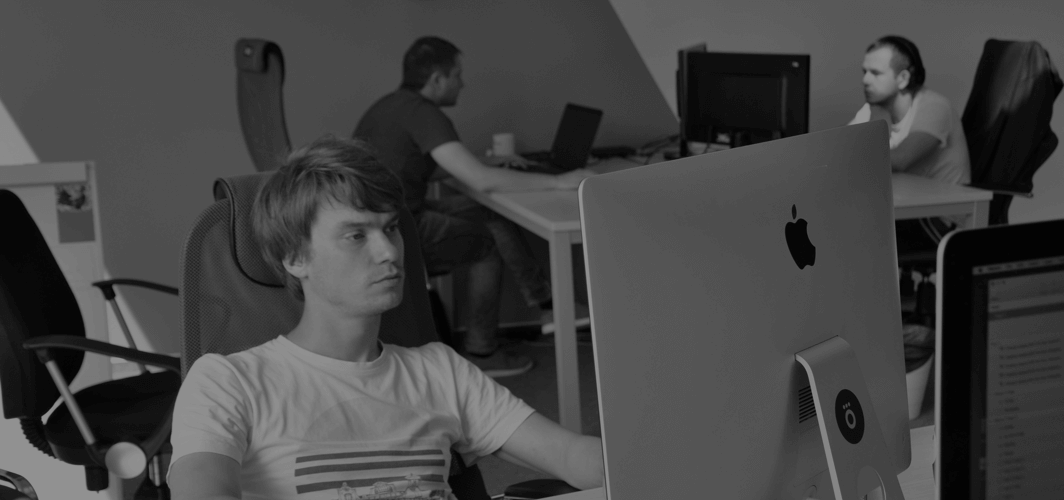 Advanced Functionality
If you feel that your app lacks functionality, Magora developers can always help you to add new extra features which will expand the scope of tasks your application can perform, for example:
Integration with social media. Let users log in with their Facebook account and share content about your brand on Twitter.
In-app purchases. Let your customers buy from you on the go.
Custom content management system. Update the content fast and easily.
Get In Touch
We design first-class software that brings tangible value to businesses. Our varied portfolio of applications we've created boasts hundreds of successful projects delivered to internationally recognised brands, startups and small businesses.
Do you have any question you would like to ask? Get in touch - our expert will be happy to chat to you about your projects and the online future of your business.