When do you need ios developers?
When you seek a more stable platform that protects you from vulnerabilities. iOS is far more secure than its competitors, firewalling any activity between each of the applications downloaded by users on any mobile device.
1
When you want to equip your staff with stable, working, high-quality gadgets. Apple hardware is from the top tier.
2
When you want to decrease the cost of maintenance.
3
Take into account that development for both iOS and Android means paying the same cost twice.
Good iOS applications, as well as Android software, require follow-up and continued support. These costs are reduced with iOS devices. The explanation is simple: it's much more time consuming to maintain the apps on the variety of different screen sizes and different models of Android smartphones and tablets than do so on the limited number of iPhone and iPad models.
Also, there are different producers of Android devices, like LG, Samsung, etc. These companies have the right to make changes to their Android OS, meaning it is safer to go with the uniform iOS/Apple device and avoid a lot of possible conflicts within Android-based OSs.
Why iOS?
iOS currently offers several distinct possibilities in terms of devices. Many people see these as the same thing with screens of varying sizes, but the truth is each device has its own strengths.
Where to concentrate, on iPhone or iPad?
How to estimate the market of each platform?
When Android is the better option?
Based on your target group traffic, evaluated with the help of Google Analytics reports, you can easily estimate the market share of each of your potential target auditory. Do deep analysis - what's there preferences in mobile platforms and in gadgets. If the main part of your potential clients are coming to your website from iOS-based devices, it's a signal to concentrate on iPhone and iPad. Usually' it's the most valuable customers' who are ready to spend more.
At the same time, you need experienced iOS app developers who can release the full potential of functionality and usability for your company app on iPhone and iPad.
If you keep the functionality simple so that you only have the features that you absolutely need, then the costs of developing the app will be lower. You can then add features as you go along once the app has paid for itself.
Where to Begin
How bespoke software can help your business
To give an example, a logistics engineering for a large shipping company may worry about the pervasive problem of crumbing infrastructure on a global scale. A well designed app could incorporate several of the features listed above to coordinate movements of vehicles with live updates on infrastructure status, reducing congestion and diminishing delays.
For many consumers, the ability to track their products at every stage of the process is a highly appreciated level of transparency they are increasingly demanding for many commodities. Bespoke software allows you to enhance your supply chain and customer satisfaction at every level, keeping you competitive in the rapidly evolving world of new technologies.
Clients
Time-Proven Expertise in App Development
Over time, we have worked with many large, small and mid-sized companies who managed to achieve their business goals with the help of our high-tech software. You can check out portfolio of our iOS application developer's company if you want to know about the latest project we have delivered. We have also collaborated with some of the most well known brands. Our applications have got to the top of App Store and Google Play. Do not take it for a word - read client testimonials about our company and challenge us with your ambitious new project.
Bring Your Business to Digital Success with Our Outstanding Apps
Over the past ten years smartphones have been entering our lives and finally become the priority devices that are always at hand both at home and at work. Now we can check the email on the go, watch films while in transit and shop online no matter where we are. Businesses have already sae the great opportunity provided by mobile technologies and started to engage to consumers through smartphone apps. Do not have an app yet, it is high time you developed it, leveraging the power of innovative technologies and connecting to the vast audience of smartphone and tablet owners. Professional iOS developers can bring your business to the next level, at the same time unprofessional approach to app development can damage the reputation of the whole your business.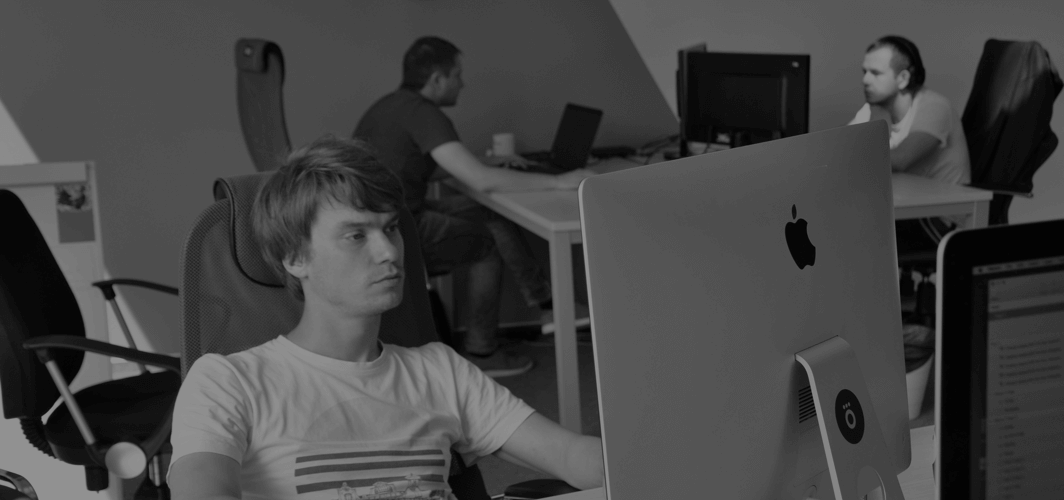 Expertise in Mobile Technologies
We create apps that are engaging, visually pleasing and useful. The mobile app market is notorious by its fierce competition and millions of apps that swarm App Store and Google Play. If you want yru app to get noticed by consumers, you need to provide them with an outstanding experience they will not forget. This is what we are excellent at - our programmers and software architects deliver first-class apps for all popular mobile operating systems and platforms. iOS, Android, WIndows, Symbian, J2ME - we are proficient in all these and even more technologies.
The Benefits of iOS App Development
Smartphone technologies are always changing and evolving, and our experts keep an eye on all the latest trends and tools to supply you with the most up to date solutions. People now spend more times interacting with the mobile devices than ever - smartphone usage has even outgrown desktop usage. Easy access to the internet via WiFi or mobile traffic and a great variety of mobile apps make app development a must for modern-day businesses.
The Advantages of work with Magora Developers
Today we can get access to the internet wherever we are, connecting to WiFi or accessing the web via mobile internet. With such a widespread internet connectivity, users can browse the web, make online purchases and interact with your brand without any limits. This is why you need to modernise your website to make it mobile-friendly and create a mobile app that will engage consumers and increase conversion rates. To implement all the modern trends of iOS technologies, you need professional developers team. Our experts in iPhone and iPad creation are ready to assist you in any complicated task.
Global reach from your backyard
To find an iOS app developer, that will care about you business process optimization, you have but to look at the heart of London.
Magora has prided itself on its ability to work with businesses to find the solutions you truly need.
Seasoned professionals with experience in multiple industries, numerous technologies, and solid background in business principles are help you realise your dream projects. Get in touch with Magora team today.