Exclusive software solutions
The web is a smart alternative for many professionals who seek the same advantages. We are talented and experienced full services software developer London company that designs and supports top-notch digital products in the heart of the UK's capital. Web developers implement the latest technologies and create user-friendly designs to build web software solutions that accelerate business innovation and appeal to consumers. Our incredible team of designers, developers, analysts, marketers, tester and other IT experts are forward-thinking, cheerful and optimistic.
1
Web app developers can bring your web presence into the 21st century and create an web software solution that adds value to existing products and services taking advantage of the emerging web technologies.
2
Bespoke web solutions provide you the opportunity to work with your data from any place in the world where an internet connection is available, and, most importantly, to do so in a safe way that connects you with all your staff worldwide.
3
Do you need a low cost, mobile solution that's safer and quicker than web apps with better functionality?
Rather than just using the web as a marketing instrument, a business web developer company can create the tools your need to bring your company into new markets, saving, earning and expanding.
Website and web app: feel the difference
Nearly every company has a website, and sometimes it means they do not see the point in developing web applications. After all, aren't they the same thing? In truth, they are similar, but not interchangeable platforms. A website is collection of images, links and texts, which operates along the lines of a catalogue. A hosting company keeps your data and users, can peruse and find contact information, success stories, etc. A web application, on the other hand, boosts that catalogue with dynamic functionality. Adding functionality, rather than accessing information, this type of software brings processing power to complete complicated tasks and provides you with all the advantages of a super computer via your browser interface.
Our Expertise
Broad expertise in digital technology and various industries
Almost ten years of experience in front end and back end development
Developers well-versed in web technologies and services
Excellent communicative skills and full transparency of the process
Our developer team is committed to our craft and strive to deliver only first-class products
Our web developers take the time to get an in-depth understanding of your business and quickly delve into any subject matter
Technologies We Utilise
Front end: HTML5, CSS3, JavaScript, jQuery
Gulp, Grunt
SASS/Less
Content management systems (CMS): PHP and MySQL
The JS framework: Angular and React
And many other advanced technologies.
Who We Are
Magora are a team of London-based developers, designers and other IT experts who create top-notch user-friendly B2B bespoke software and B2C mobile apps for a wide range of clients from small businesses around the corner to internationally recognised corporations and governmental organizations. Over almost ten years in the IT industry, our developers have worked on many ambitious projects such as nationwide charity campaigns, chain store launches, startup validation and innovative e-commerce solutions. We create feature-rich, efficient, scalable and secure apps that address the needs of every specific business and never fail to appeal to users.
Software Developer London
We are one of the leading full-stack software developer companies in London with offices all around the world. Our developers deliver projects on time, within budget, and in compliance with all requirements.
Magora has delivered bespoke Java apps for many businesses across the UK and worldwide, after all, Java is one of the most popular programming language among developers. We know how to create feature-rich and visually stunning apps that utilise cutting-edge technologies and best design guidelines. As a matter of fact, you have probably visited some of the websites developed by Magora or used an app or two that we brought to life because our developers have worked with some of the most famous brands in the UK and internationally.
Magora are well-versed in working with Java Platform, Enterprise Edition and have a deep understanding its application servers such as Websphere, Tomcat, Glassfish, Websphere, TomEE and others. Moreover, our developers know our way around the latest Java technologies: Swing, JMS, Spring, Struts, Hibernate, JDBC - we know them all in and out. Many businesses choose Java as the programming language for their software due to its huge popularity in the finance and media sectors. Java's advantages are high security and easy-to-understand environment, which allow developers to build feature-rich and high-performing apps.
Magora software developer London's expertise covers all aspects of app development from planning to programming, testing and releasing to the market. We can integrate your apps with any third-party services you utilise within your company, as well as connect software to hardware, creating elaborate enterprise systems. We follow the principle of the agile methodology, working in short sprint and delivering shippable products after each such period and introducing changes to the software even at the latest stages of development if necessary. Whether you need a professional to advise you on the best digital strategy or want to create an native mobile app for ioS from scratch, we have enough expertise to assist you in any task.
Quality Assurance
Quality dictates a certain level of testing in all apps, but where web app development is concerned, be sure to run additional testing for
Clients
Work with an Experienced Team of Professional Developers
Whether you need an audit of your legacy system, strategic consulting or advice on the best technologies to implement within your app, Magora developers and IT experts are ready to help. For more than nine years we have been creating mobile apps and bespoke software that offer outstanding user experiences and bring value to companies. We have accumulated much knowledge and cross-industry expertise, and are now willing to contribute it to your project, tailoring a solution that will bring your company to success. Magora experts always interview the clients and delve into the specifics of their business to ensure that the product we create fits into your process, achieves business objectives and delivers maximum ROI.
There are a number of online and software tools you can use to automate the process, but regardless of what you use, ensuring a high-quality, secure platform for you and your users, customers and partners.
Risk Management
Risk management and mitigation is important for any digital platform, and in the same way that traditional desktop applications can find themselves at risk without proper vigilance, so can web-based ones. Depending upon what type of information your application offers and maintains, your level of risk can vary.
Credit card numbers are far more attractive to hackers than the number of paint cans ordered in the last year, so if you have any information that can be monetized, you need solid security around your app, designed and administered by top professionals, which can give you and your users peace of mind.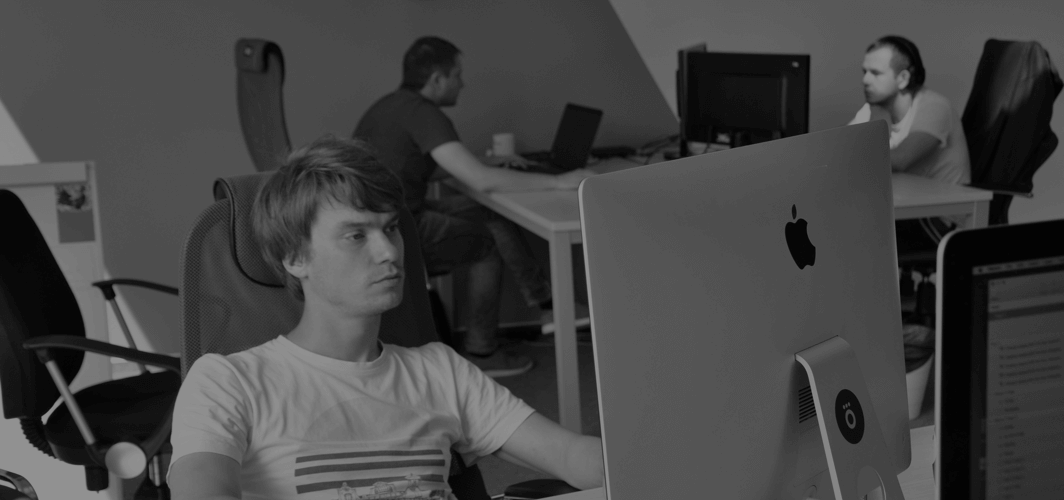 Contact our app development company today
Developers from Magora company with years of web app development for different B2B fields know how to create exclusive, secure programs, focusing attention on the unique needs of your business and the solutions that will yield the greatest results for you.
Talk with a Magora expert today and learn how you can outperform the competition by using the full capabilities of your browser with professional web app development.