Our technological expertise grows every day, as our developers continue to:
2
Study Apple developer guidelines
3
Implement new programming technologies.
We have been a certified London application developers for more than five years.
Full Range of Digital Solutions for Business
Mobile strategy. Business analysts launch time and cost efficient mobile campaigns that bring tangible business results.
UX/UI design. iPad designers put the user at the center, focusing at providing an outstanding experience within our mobile program.
Software development. Magora developers create native apps taking advantage of all iPad capabilities.
Marketing consulting. Our talented marketers know how to create buzz and generate sales.
Our London company builds feature-rich, visually stunning software solutions that appeal to users and empower enterprises.
iPhone vs iPad Development
Over the past several years, tablets have made great inroads, replacing many of the daily tasks we used to perform with both phones and computers, while companies continue to keep up with the rapidly evolving digital landscape of their industries. Apple's iPad offers the extensive benefits of such devices, but with enhanced usability. And despite about 9 of 10 iPad application are the supplements to the iPhone solutions, their popularity is growing together with the whole mobile market. "Going mobile" is not limited to smartphones now.
What Makes iPads a Better Option

Our software developers excels
in iPad programming.
iPad Expertise
Magora developers are already harnessing the power of these devices for businesses worldwide. Our B2B partners are always excited to see the value we can add on this platform. Let our iPad developers show you how to take full advantage of the differences, including:
Clients
Over more than 8 years in the IT industry, iPad developers have established a flawless process that enables our team to create first-class software within the shortest possible time and at a reasonable price. We guarantee you that we will deliver your project on time, within budget and fully compliant with the initial requirements. To add more, our London developers are never satisfied by average results - they always strive to polish our products to perfection, make them seamlessly fit into your business process and help your company successfully launch them to the market.
In the modern-day business environment driven by technology it is extremely hard to stand out from the competition if your company doesn't not have an app. More and more small, midsize and large companies invest into app development, seeking to reach out to more consumers and boost sales. WIthout a doubt, applications are the most powerful tools in the today's market. Our London-based developers can help you formulate a comprehensive mobile strategy for your products, find the right channels and select the most effective approaches that will bring you to your business goals.
At the initial stage, our London developers assess the scope of the project, create a software requirement specification and design a prototype that lets the client feel the user experience of the app and see how the designs work on an iPad. To make it happen, our developers hold meeting with the client, discussing ideas and finding best solutions to the problems that your company faces, ending up with a clear list of requirements for design and implementation. Then we move to the user interface of your program, creating graphics, interactive elements and other important nuances that define how the user engages with the app.
When we are finished with the design, our experienced app developers begin hardcore programming. We find the best software development methodology based on the project specifics: we use waterfall for the projects with strict requirements and Agile for software projects that need flexibility and are likely to have changes to the requirements en route to the final destination. At the final stage, we prepare the mobile program to be utilised to App Store and design a strategy for its later maintenance, upgrade and support. Moreover, we work with the client to craft a marketing strategy that would target his or her niche audience, increase conversion rates and make customer company as сloser to its customers as never before.
Make Your App Visible


We are experts at launching highly efficient marketing campaigns utilising various channels such as social networks, mass media, email, SMS and others that create buzz and bring a lot of value - after all, however cool your app may be, it is worth nothings without a loyal audience that is willing to engage. Working together with the stakeholders of your company, we will craft a strategy that best fits into your business, keeps in line with the established business person and brings return on investment you can only, while improving your positions in marketplaces and search engine.
Create an iPad App with London Developers
Great development and marketing process is the key to your program's success. Not all apps are created equal, but their lifecycle is mostly the same. First, we turn your idea into a great design concept that offers an outstanding user experience and has a user-friendly interface. When the design mockup is up and running, we proceed to coding the program, following the agile approach which provide us with great flexibility and ensures efficiency and utilizing the most advanced tools for app development.
iPhone brings you the world at the tip of your finger, while iPad lets you command it with all ten. Every app developer at Magora thinks about the optimization of the process and we create the design of software solutions for smartphones and separately create applications to provide the best solution for the iPad.
We at Magora have done a lot of research of user behaviour and implemented the knowledge in our iPad apps. But each of our successful projects we have created together with the customer.
Only you know your clients, as well as your industry, so together we can leverage our collective knowledge to create the best iPad application that will add value to your business.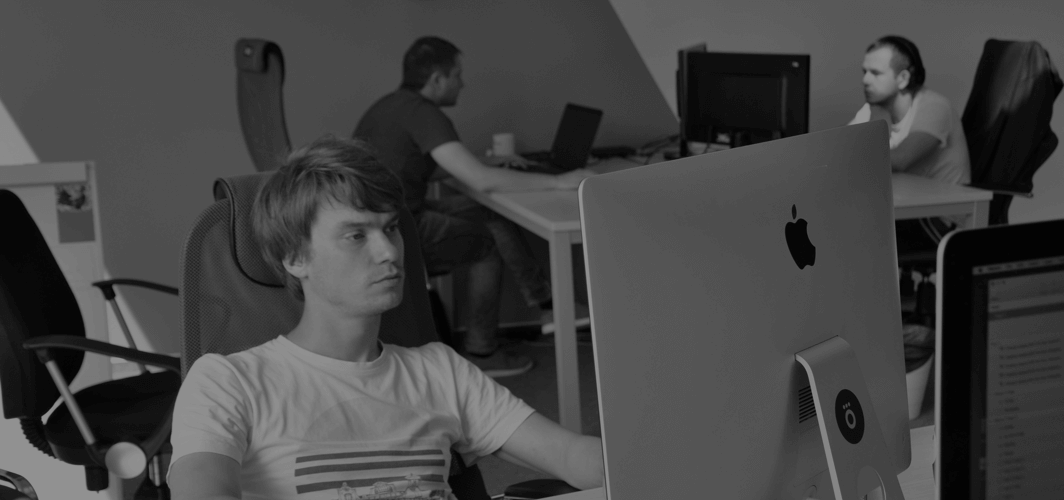 Challenge us with any Task
We can help you with anything related to the information technologies, from frequently asked questions like how to develop a perfect app to highly specific tasks like secure integration of high-tech sensors with bespoke software system for Linux. Are you ready to work with the best app developers in London (yes, we are, in our not so humble opinion)? Leverage cutting-edge technology to accelerate business innovation and bring your creative ideas to life with an enthusiastic team of skilled developers, designers, business analysts, project managers and other IT specialists. We develop IT tools that make a difference, increasing business productivity, retaining customers and reaching out to the largest audience of smartphone users.
Magora - your iPad application developer in London
Our UK developers team is ready to help your business growth. In our London office, we create tablet programs that can change the game, saving you money, generating you profits and solving your problems.
If you are thinking about how to tap into the market of tablet users, get in touch with one of our experts today for a full appraisal of your idea's viability, cost of investment and the types of ROI you can expect in working with a UK iPad application developer.