We can state that the main question, which arises before every ambitious entrepreneur, is not whether or not to use business applications, but how to do it most efficiently. Without a doubt, while faced with such a complicated and important choice, you should choose a dependable company guided by the most essential principles of modern software development, which can supply you with high quality, effective and flexible apps that perfectly correspond to the chosen problem.
Magora creates various types of business applications and highly productive mobile apps, which are aimed at your full and permanent satisfaction.
1
Our team of experts has such advantages as a great professional experience, a number of splendidly accomplished projects for various companies, diverse time-tested strategies of development, which have already demonstrated their efficiency for various objectives, and, a desire to design masterpieces, which can rightfully claim a notable place among the best software tools. All our products are designed in accordance with the most flexible and reliable tendencies in the innovated business industry.
2
We aim to a create long-term connection that is mutually beneficial with our customers, thereby, we propose all our clients an opportunity to learn more about the main strategies of our work. We believe that all distinguished IT products must be designed in accordance with three essential principles – they must be easy to use, 100% effective for solving specific problems and, last but not the least, engaging for all users. Our company provides specialised services, which are targeted at fast and significant development, implementation and complete integration of enterprise applications in various areas.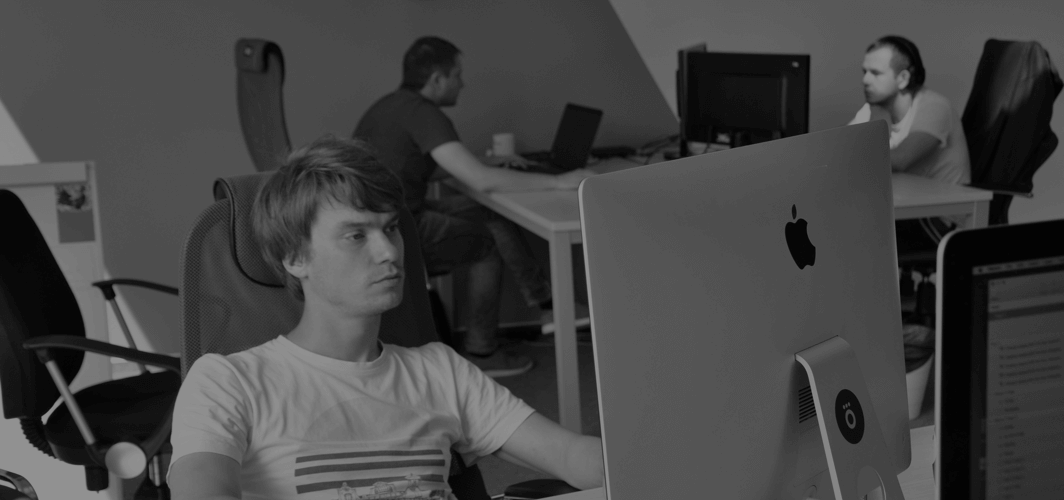 Magora Team for Businesses
For example, Magora supplies its clients with highly effective solutions for the lion's share of objectives that may be interesting to those entrepreneurs who wish to increase their company's' productivity, reduce administrative costs and automate routine operations. Hereby, we offer you the following solutions:
Custom business process solutions, which are designed in order to increase the levels of productivity, by using modern collaborative systems and reporting systems accessible from the user's layer.
Latter-day web applications driven by data, which operate on the level of intranet or cloud hosting.
The so-called custom builds or the integrated web applications, which include customised reporting systems.
Workflow automation apps – a group of corporate apps, which are aimed at the full integration of all your connected IT systems in order to improve various processes.
The industry-standard Microsoft software tools and applications. The modern utilisation of tools from the Microsoft stack provides perfect compatibility with all your systems as well as permanent support.
Obviously, not only do we write code and create designs for our first-rate apps, but also provide full support for all our projects since its inception and until its launch. Moreover, Magora also proffers you a number of additional services, which can increase the popularity and the effectiveness of the accomplished software even after its launch. Magora provides first-rate support for its clients and proposes them the most effective and suitable methods not only to fix the potential problems, but also to prevent their occurrence in the first place. Trust Magora and you will not regret.
Our Extra-Classy Services of Advanced Business App Development
Surely, our business application development company proposes you exceptionally the most effective and perfectly designed software tools created to satisfy your specific demands. Our comprehensive combination of skill sets, including advanced network management, reporting solutions, custom application development, and portal customization, allows us to declare that we can deliver all types of developing and supporting services for our clients, striving to extend the presence of our technology to their business goals as they exist today and will tomorrow. Our team is particular about the following types of objectives: modern mobile applications, specialised business apps and project management.
Business Applications
Our team of experienced developers has a great experience in the development of diverse strategic business applications for different organisations. We have been developing such projects over the past couple of years; thus, we can assure you that our specialists can boast of both a time-tested set of skills and an ability to use the latest concepts in the sphere of modern application development as well as to create them independently. Of course, these business applications can be based on highly specific sets of processes or comprise even entire business systems, which are based on the workflow and featuring of order processing, CRM together with ISO compliance and HR tools. Needless to say that we are familiar with all these objectives. Therefore, we can guarantee you the perfect quality of our business apps. No matter what your goal is, a timely identification of potentially problem areas or an automation of ordinary checks, we are ready to design a custom business application especially for your needs.
Mobile Apps
Of course, Magora creates various types of made-to-order mobile applications for virtually all contemporary leading smartphone and various tablet devices. As always, we work closely with our clients, attempting to determine all their needs and design a correctly designed and user-friendly infrastructure necessary to support the qualitative ongoing functioning of the mobile application.
Clients

Project Management
Our aim is to liaise with our developers and our clients in order to facilitate progress and on-time completion of the software development project.
Our experts manage and deliver the application by working with key stakeholders, in accordance with the following format outlines:
Stage 1
Global System Definition. It is a scoping exercise, which is targeted towards the investigation of all significant business processes and requirements. This essential stage leads to the definition of a system and an estimation of costs. Thereby, according to our needs, we focus this stage of Project at the following issues:


Business App Purpose
Overview of Global System
Architecture of Business
Drivers for Integrated Architecture
Logical Architecture
Options for Delivery
Necessary Resource and Estimate of Cost
Stage 2
Project Delivery Proposal. It is a set of documents, which detail all phases of the project. Thereby, by creating this Proposal, we can guarantee a clear understanding between our clients and us. Project Delivery Proposal determines the following parts of the business application development project:


Project Objectives and Requirements
Project Close
Project Scope (in scope & out of scope)
Key stakeholders
Integrated System Design
System implementation
Proposed sourcing
System handover and Ongoing Support
Thereby, our clients receive 100% reliable guarantee about the quality of the application as well as about all the costs. We also guarantee you extra-classy ongoing support, which means that in addition to our client-oriented development and design services, we take full responsibility for the permanent quality of the functioning of all our products and mobile applications.
Innovated Business Application Development as a Key to Your Financial Success
Naturally, as a multiple-awarded design and development company, which is now among the leading organisations in the development industry, Magora is focused on the creation of first-class software that can save our clients from problems with their labour relations, marketing or an uncontrollable document flow, etc. Thereby, we offer our customers diverse specially designed flexible and dynamic client models so as to ensure that we achieve a perfect fit with our collaboration. Furthermore, as it was shown, our team does not focus exceptionally on the development of new applications. Specialists who work in Magora are also highly experienced in different types of existing software services maintenance, which allows them to ensure application performance highest levels and service levels of business-critical.
Therefore, using our effective development strategies, we can offer you the best business applications for the general or even highly specialised solutions in the following areas:
We design mobile applications, which allow you to establish complete production process automation, re-establish all modern systems for fault detection and location, manufacturing process design monitoring, estimation of material and time resources. In addition, we can provide you correct measuring instruments and record keeping systems together with latter-day equipment monitoring systems.
Our modern applications can be used in the spheres of budget planning, corporate audit and/or calculation of potential budgeting risks. Furthermore, we can supply you with different custom-made applications for other specific solutions in the sphere of business application development, such as applications for integrated cash accounting systems or funds distribution reports.
Surely, our modern apps may become useful in all areas that are connected with the potential automation of the routine operations. Therefore, various software tools and highly specialised programs, which can optimise the document flow, find many applications in diverse spheres of administration. We provide apps that can be used in modern document flow accounting and monitoring systems, advanced access system for rights differentiation and modern integrated record keeping correspondence systems. We also have sufficient experience in apps creation for packaging and classification of documents as well as for sampling of certain types of documents.
Contact Us Today
We are good in these areas, so we are not afraid to supply our clients with special guarantees, which regulate all details and aspects of our services in the sphere of business application development as well as in project management.