The 10 coolest app design software tools
lIn 2019, mobile apps still remain an indispensable asset for any business. Special attention is paid to the designs – they have to be laconic and stylish, yet have something that makes them stand out from their competitors.
App development tools
Conventionally, a layperson like you or me can't even imagine being able to create a map on our own. It requires engineering knowledge, as well as extensive working hours and trials.
Now, however, it's become possible for an amateur to develop an app. A large number of Mobile App development tools are available and can guide you through each step of the development process.
In this post, let's examine the most valuable instruments for designers in 2019 to sketch interfaces and create prototypes. You can experiment with them yourself or use them as guidelines for your own design.
List of the top application design tools in 2019
Here is the list that Magora's team of designers uses every day in their work. They've tested each of these entries through and have deemed them the most intuitive, functional and easy-to-use.
1. Sketch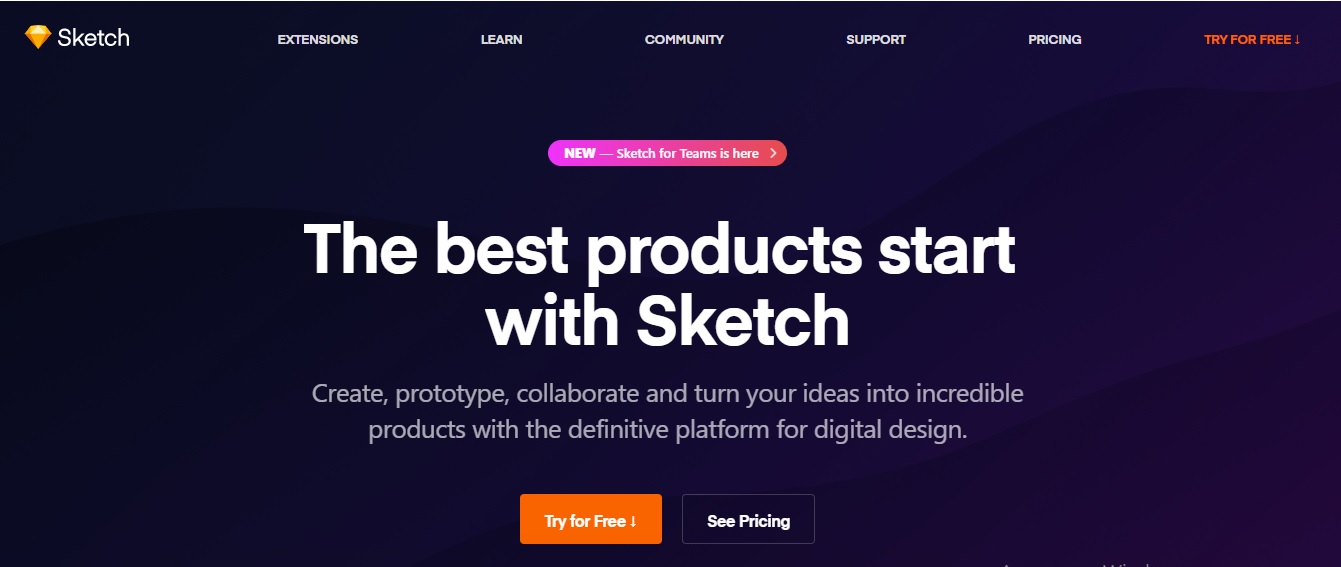 This tool for UI/UX design only works on Macbooks. The interface is close to Adobe Photoshop but the functionality is built around app prototyping. It also provides tools for wireframing and collective editing of content.
Pluses:
Enjoy free disk space of 20 megabytes.
The system is lightweight and doesn't demand much in the way of system resources.
Minuses:
In order to use a more expanded set of features, you need to buy the licence. The price varies based on the tariff you choose.
Doesn't provide tools for animation.
Isn't suitable for photo editing. For this, you will need to accompany the app with some other tool like Photoshop or Snapseed.
Doesn't run on PC.
2. Adobe Experience Design

If you aren't a proud owner of Mac and aren't going to buy one, Adobe Experience Design is the program you should use instead.
Pluses:
Adobe provides the majority of the Sketch features – tools for creating sketches, wireframes and prototypes.
It's fast and if you've already used some of Adobe's other tools it'll prove extremely intuitive and easy to use.
Minuses:
XD has just been launched and still lacks some features.
Also, it may not support older versions of Windows (before Windows 10).
3. Marvel

Our experts recommend Marvel to any app design company or team. It's great for collaborative work on projects that include visualisation, prototyping or any other work connected with graphic content editing.
Pluses:
Synchronises the changes in designs from other programs too, such as Sketch, Photoshop or even Dropbox or Google Drive.
Has a tool for animating features.
4. Proto.io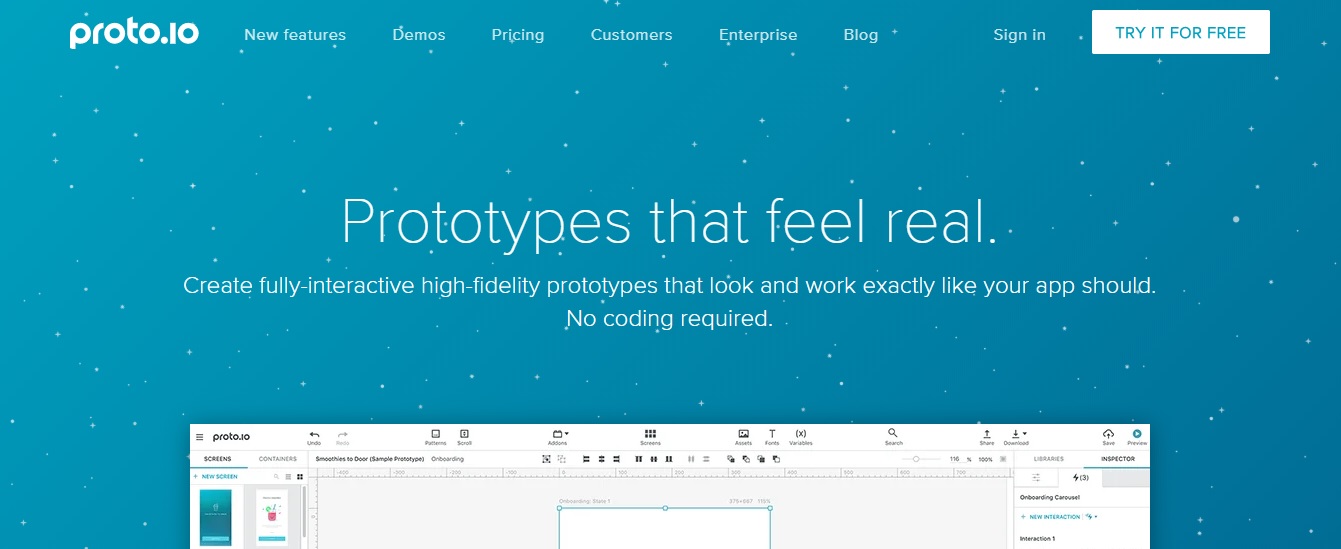 Perfect software for aspiring startupers who don't want to hire a designer to visualise their ideas. Proto.io permits the creation of a cute prototype using in-built templates. This isn't the path you should choose for the ultimate app design but works well when you need to present your software idea fast.
Benefits:
It requires zero coding skills, and you can import more advanced UI components (if you have any) from other design tools (Sketch or Adobe programs).
Cool animations and a preview mode let you animate your app's element and see how it will look across different screens.
You can continue working on your project even offline. When online, it can synchronize with Dropbox or Google Drive.
It also doesn't take up any space on your hardware as it functions completely in the browser.
Free 15-day trial available.
5. Origami Studio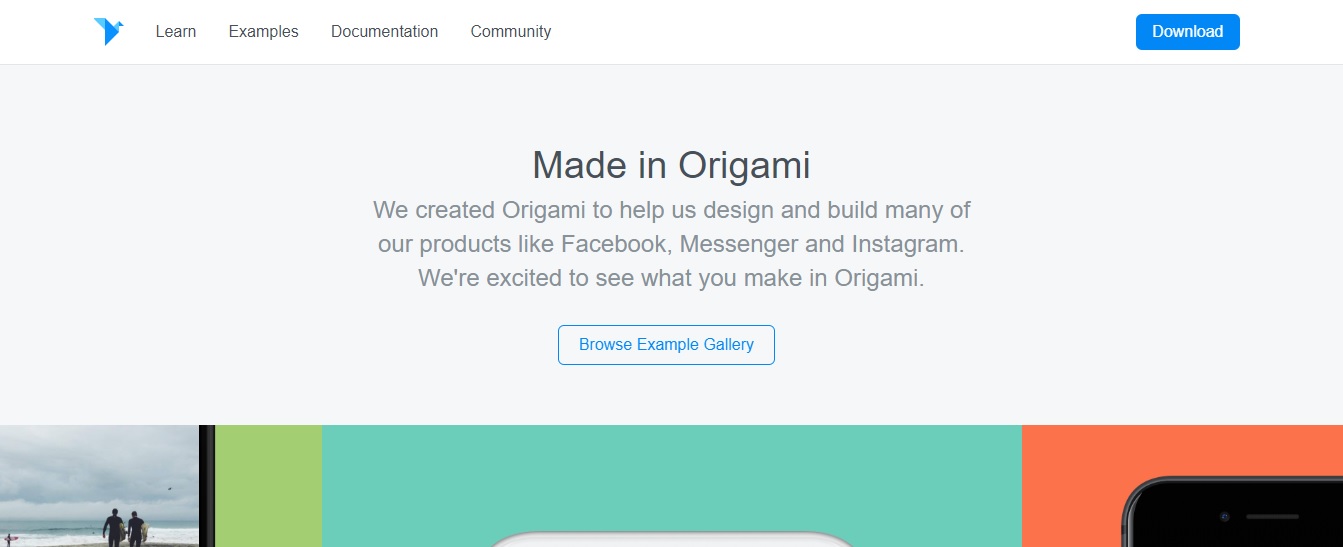 This instrument was designed to prototype Facebook Messenger. You can use it too, completely for free!
Pluses:
Has a preview mode. You can also connect it to your mobile device and see the changes on the screen in real-time.
Lets you import layers from Sketch.
You can send your prototype to clients via Origami for display.
Minuses: complex interface. It was designed for professionals, so you might need some time to figure everything out.
6. HotGloo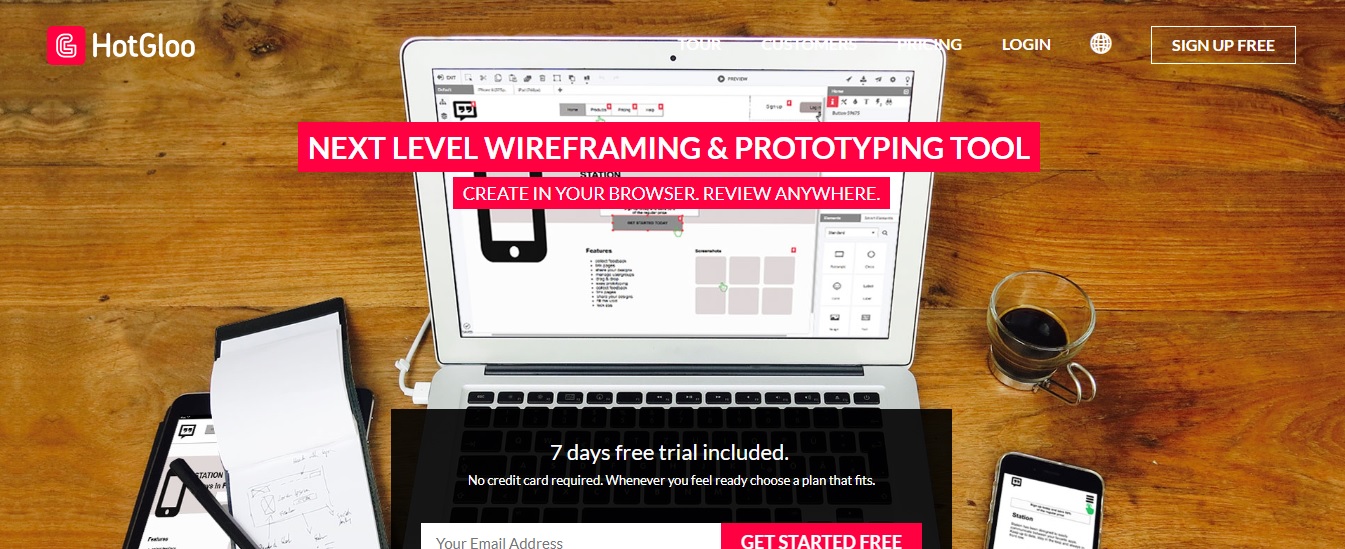 HotGloo is one more app for creating interfaces that you might like thanks to its functionality and stylishness. You can use it to make any type of app screen for any device.
Pluses:
lots of space for designing interactive features.
Allows collaboration.
Web-based, no installation. The space on the cloud is not limited.
7. Flinto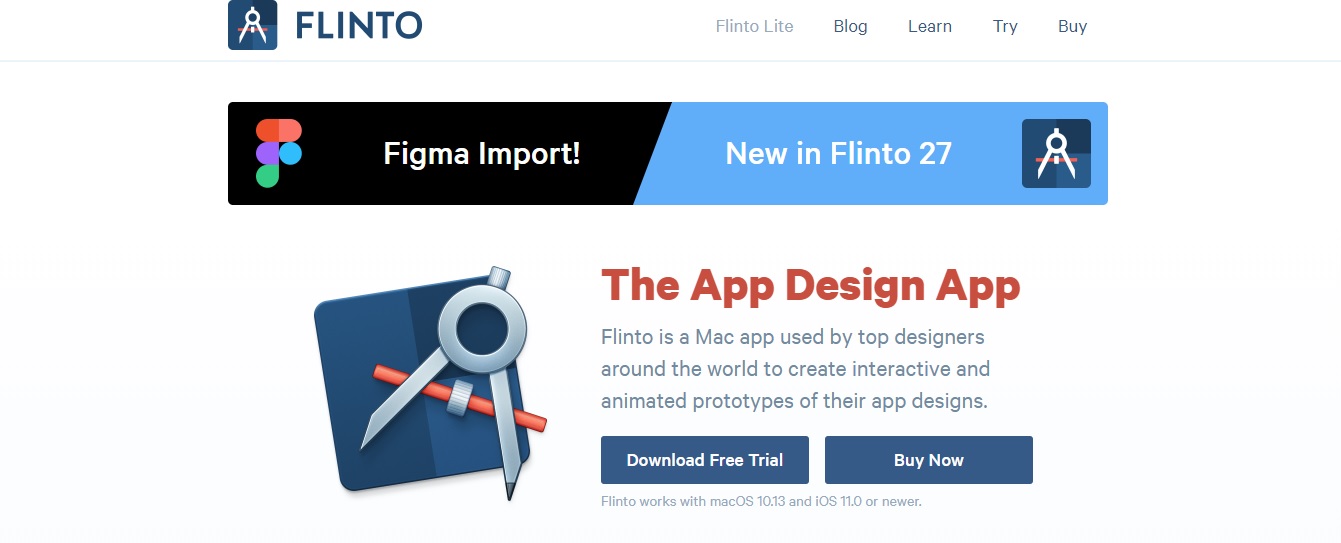 Flinto is very similar to Sketch but offers both Mac and PC versions – so now your team's collaboration on the project can be as seamless as possible.
Lets you import components from other programs. Runs in the browser.
8. Framer JS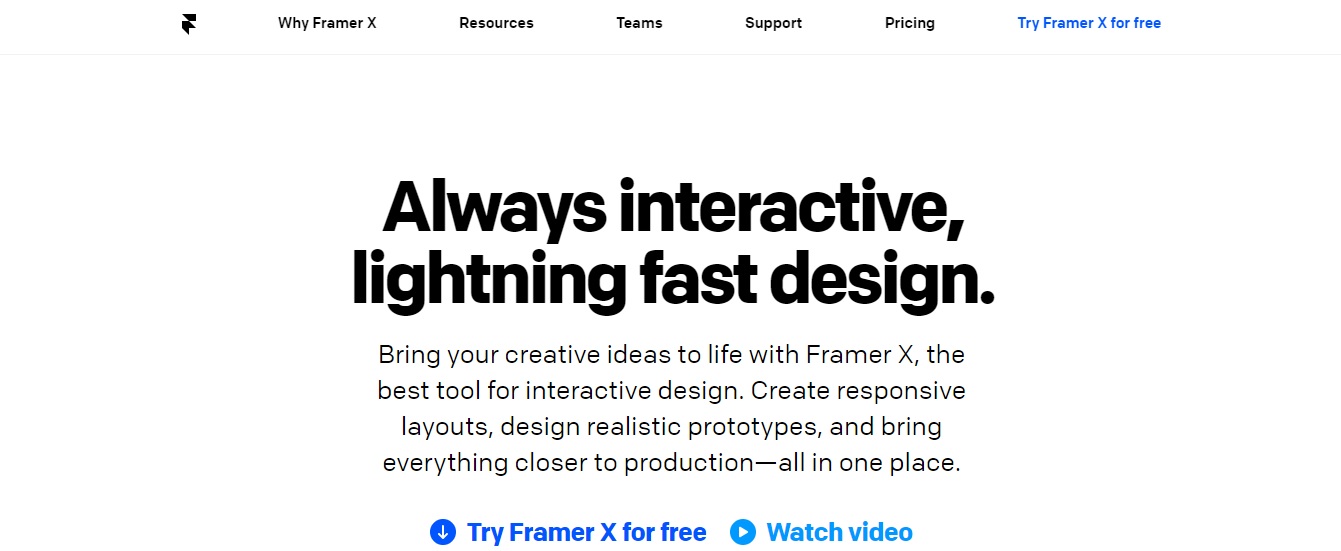 The most flexible tool from the list, since it provides lots of options for those who don't know how to code – by generating the corresponding code for the backend – and those who are capable of handling this side of things themselves.
Pros:
interactive visual editor.
Lets you create impressive wireframes and prototypes.
No technical limitations. You can edit elements, animate them and import designs.
Minuses: to apply it productively, you need to learn how to use it. Otherwise, you risk wasting a lot of time However, training is provided for free online.
9. InVision

With InVision, you can upload your designs in order to animate them and add gestures or transitions. Transforms your app from static boredom to a clickable, convincing prototype for your sponsors.
10. Zeplin

Zeplin is a connected space where designers and developers can create.
Pluses:
allows you to upload your wireframes and visual designs from Photoshop and Sketch.
Every project has a specialised folder – no mess.
Designers and developers can work on the project simultaneously thanks to the automatic annotation of all the uploaded files.
Conclusion
As you can see, it's possible to build cool designs from scratch using powerful software tools. We hope that by using these apps you will be able to create magnificent interfaces and stunning prototypes based on your software idea.
Once again, all the best app design software tools in one place:
Sketch
XD
Marvel
Proto.io
Origami Studio
HotGloo
UI stencil kit
Flinto
Framer JS
InVision
However, if you aren't sure you want to get going with this complicated process yourself and looking for a team of experts to back you up with professional development, contact us.
open