How Project Managers Can Keep you out of Trouble

Who is a Project Manager?
A Project Manager (PM) is one of the most underestimated positions. For some reason, it is often considered that anyone can start and maintain a stable project workflow on a daily basis. The reality is that a PM plays a key role in project development. They cover a huge variety of pitfalls and essentially they need to hold a team together. Their work is essential for assuring clear and steady communication. Their input helps to dramatically decrease the time a developer spends on task specification and statement. Usually such a process requires coordination between a customer, a Business Analyst (BA), a team lead and a developer. A PM's absence will most likely increase risks and cause misdirection within the project, because a developer will be unable to see the complete scope of the implementation.
What are the key areas of a Project Manager's expertise?

Gather and keep project knowledge. Often the PM is the only one (except a BA), who is in on all the implementation details and can answer any question within a short period of time. And a prompt response is vital for non-stop development.
Retain project vision. A PM is the person who keep project ticking over and ensures that it stays on course to its completion. This work is crucial, as each team member (customer, developer, BA) may have their own vision and possibly stray from the original path of the development.
Manage time and resources. The PM coordinates dates and time, helps every team member to stay engaged, analyses incoming tasks and organizes them by priority in order to meet the project requirements.
Plan deadlines, budget and risks. The PM sets and monitors time frames, budget and risks. They apply the appropriate precautionary measures whenever necessary.
Control changes. A PM reduces the time spent on rewriting the code due to bad task statement or misunderstanding. They make sure that everything, up to the slightest details, will be done by the book.
Maintain clear communication. A PM keeps each team member updated, translates from "developer" language to "designer", "BA" or "customer" languages. With a PM developers are shielded from excessive interruptions, yet all incoming customer requests are taken into account.
Manage people. A PM motivates and guides the team.
The PM provides continuous, trouble free work. They are always available for their development team and stakeholders. They correlate the demands coming from both sides to figure out the best solution possible.
What is not related to a PM?
Even though a PM does a various work and always covers any weak spots, they should not be confused with a Product Manager. The PM's goal is fulfilling customer requirements (possibly with adjustments). Typically, they work works to accomplish a scope of work and they does not take part in marketing and/or designing the UI. A Product Manager, on the other hand, is fully involved with the process of feature creation. They can define what to do and how to do it. They plan product evolution, and may cover analysis, coding, and other tasks as well.
What does a PM really do?
A perfect version of an easy and trouble-free project lifetime with an outline of the PM's responsibilities is described below. However, each project may or may not contain some of the steps.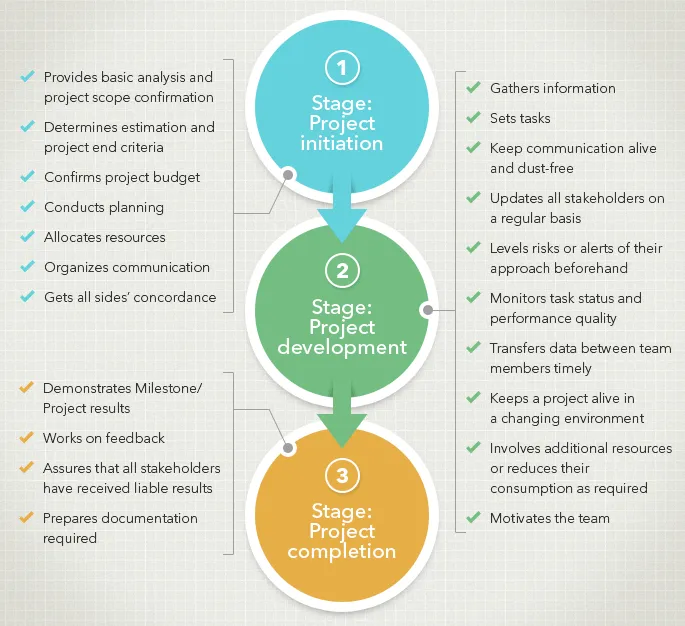 In conclusion
Well-organized Project Management is a tough challenge. It's not an easy a job that can be done by just about anybody. Especially done well. In order to master Project Management, you need to think strategically, have profound knowledge and excellent memory, become a true leader and be spectacularly good at communication. A Professional PM can make a team work like a well-oiled machine and drive any project towards success.
open