Mobile App Development: Beginner's Guide

The mobile era is not an upcoming trend, it's already here. This article is an outline of the things you should keep in mind, if you're planning to acquire a mobile app.
Part one: Shape your idea
You need to have an advanced commercial concept. If you don't have a clear vision, nobody else will be able to understand what you want.
Check out your competitors. Learn from their mistakes. Find the most successful examples within your industry or category. How could these apps help their business? Which features do they have and what are they lacking?
Know your audience. Who are the potential users of the app? Whether your company is a startup or a global organization, try to understand your customers, fulfill their needs and surpass their expectations. Going mobile might open the doors to new and undiscovered segments of the consumer market for you.
Pick your platform. The major players here are Android and iOS, plus there is Windows Phone trying hard to catch up. Android leads in the number of users and downloads, iOS apps bring far more revenue though.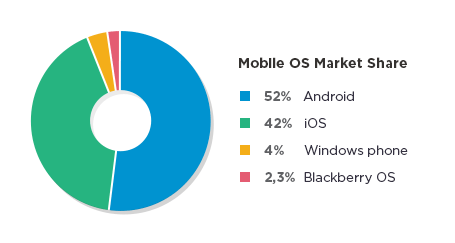 Source: eWeek, September 2014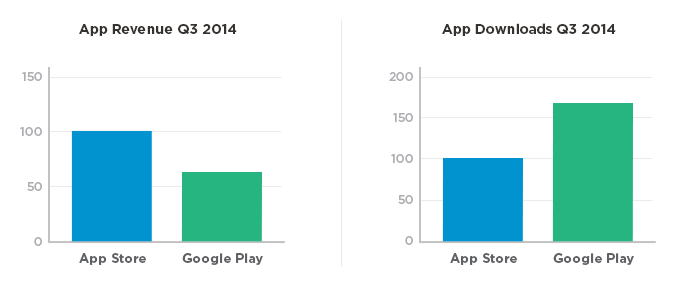 Source: App Annie Intelligence
Pick your monetization model. You can earn money from app downloads, in-app purchases or receive additional revenue from in-app advertising. The choice is yours. But take into consideration the fact that the so called "Freemium" model (free apps with in-app purchases) has been totally dominating the market lately.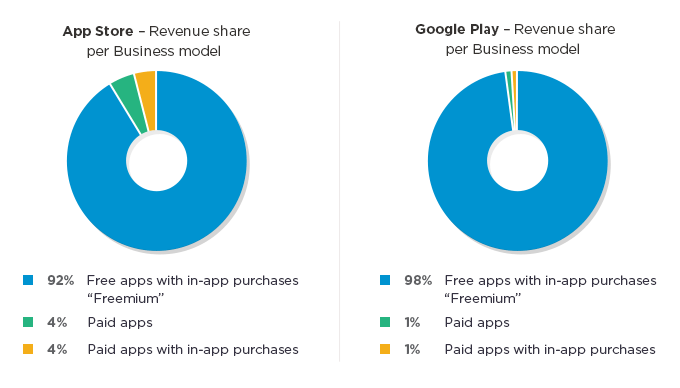 Source: Distimo, 2013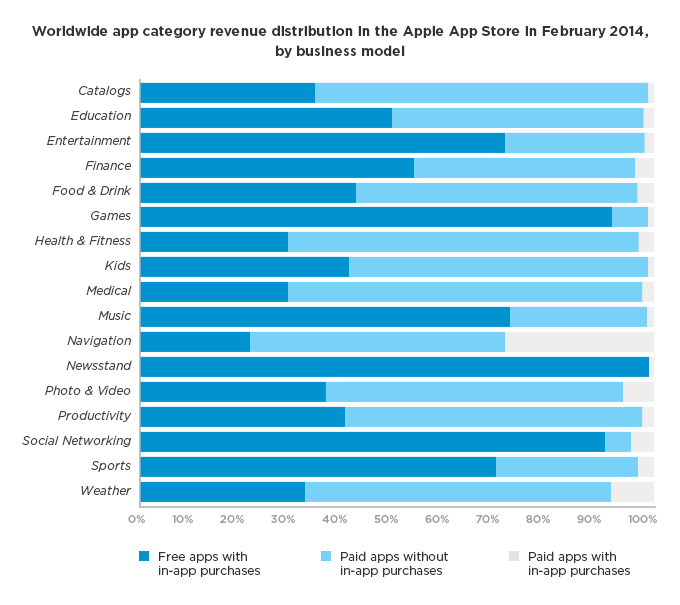 Source: Statista, 2014
Invest in analytics. The constantly growing competition and enormous amounts of released apps have made the users really demanding – they only opt for the best. After you've got all the commercial parameters figured out, turn to the professional analysts. Taking your requirements into consideration, they'll form a Software Requirement Specification. This document will allow developers to build an app with the optimal functionality as quickly and efficiently as possible. It also helps to minimize risks, and establish the precise development time and costs.
Part two: Find your developer
Now that you have your concept figured out, it's time to transform it into an actual product. You need to find a development company that would build your app. It seems rational to learn about:

Portfolio.
Some companies choose to showcase only their most spectacular and significant projects, others have a big and diverse
portfolio
. Take a careful glance, try to focus on quality, look for examples similar to your project and don't forget to ask for the contact details of their previous clients.

Experience.
Choose a company that has been in the market for some time, as no amount of theoretical knowledge can replace real experience. It's best to hire a company with industry-specific expertise or one that had built an app with a similar purpose as the one you want. That way you'll be able to obtain some useful insights and tips.

Well-rounded skillset.
As it has been mentioned above, the users today are very, very demanding. Pick a company with a strong team, capable of implementing different features, such as geolocation, streaming video, integration with social networks or anything else you might need.

Financial terms.
There is always a budget and a desire to spend less. It's understandable. But keep in mind that usually "if you buy cheaply, you pay dearly". So choose the best developer you can afford. There can be contracts with hourly rates or a fixed total price for the whole project. Pick the most convenient option.

Communication
is key. A competent development company knows the true importance of good communication. You get updated on the progress of the project. They get your feedback.

Organized process.
It often takes years for organizations to figure out the strategies and
methodologies
that provide the ultimate efficiency and impressive results. An established vendor will be able to make the whole process transparent and understandable for you as well.

Reliability.
Choose secure and reliable companies that provide guarantees, protect and respect your data and ideas and maintain high quality. Mobile development is a long-term partnership, as your app will demand post-release technical support and updates in order to remain competitive.
open