How to Market your Mobile App

Today many companies and individuals are investing time and resources into making mobile applications. When you launch one, you enter a wast global market worth around $100 billion. Moreover, according to Statista, both App Store and Google Play currently have over 1.5 million apps available. To stand out, find and retain users you need a solid marketing strategy.
Even though we`re more focused on development, we`ve seen many tech startups crash and burn simply because they failed to market their product properly. Don`t repeat their mistake. If you`re wondering where to begin with mobile app marketing, we can offer a couple of helpful tips.
Make your presence known
If you think that marketing kicks off after the launch… Think again. The key to monetizing mobile apps successfully is meticulously planning your marketing efforts from the get-go and throughout.
Conduct proper Market Research and Analysis
The road to success begins with a refined concept. Your idea might be good, but you still should do a profound research. Just to be sure. The market is cluttered with useless applications exploiting the very same idea. Many of them have really bad UX and offer identical functionality. You can`t be a part of that group, right? Then, let`s figure out the essentials of a successful mobile app.
The problem. Mobile apps, as any tools, should have a certain purpose, solve a problem in a new or improved way. So, what can your product bring to the table? Your idea must be fresh and innovative, your vision for the implementation - sound and clear.
Target audience. Who are they, your potential customers? What type of users do existing apps target? Find your niche, your audience. Keep them & their needs in mind, when you`re deciding on the functionality.
Features. Strip down competitor apps, leaving only the most prominent features. Think of something that will give you a competitive edge. Anyone, who works in the industry, would advise you to start with minimal stack of features for the first version. You can (and will) expand with time.
Customer reviews. Don`t forget to go through reviews of your competitors. See what people are saying about them, make a list of most frequently requested features, do's and don'ts. Give people what they want!
Don`t forget to document everything. Your research will be a good base for the product development.
Craft a perfect product page
These two can make or break your company app success. If people can`t find it at Google Play or the App Store, your chances are pretty slim. Stay informed, read useful resources about mobile SEO, App Store Product page guidelines for iOS apps and tips on how to Create a Great Listing - for Android.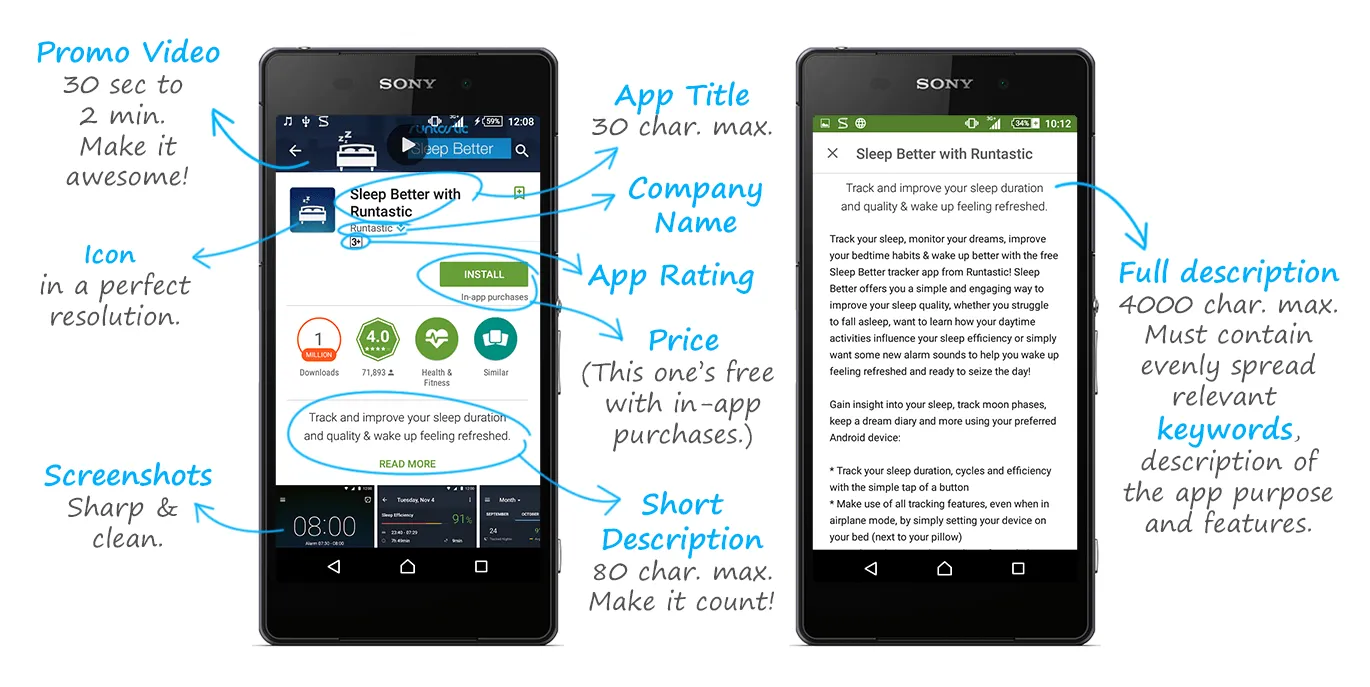 Keywords. Make sure you understand how people search mobile apps in your category. Create a list of keywords and spread them evenly within your text.
Title. It should be catchy, memorable, relevant and preferably include a keyword.
Description. Use keywords, explain the benefits your solution provides and add calls-to-action (CTA). Motivate your customers!
SEO. Get discovered in Google, Yahoo! or Bing, etc. Even though many people search for apps in the mobile markets, around 20% of users find them in search engines.
Top-notch media content. Screenshots and icons must be clean and crisp (both platforms provide thorough requirements). You can also add a preview video captured from within the device that shows the app at work.
Category. Your product might fall into more than one category. If that`s the case, it may be smart to pick the one with less competition. This way can get to the top easier. You can choose 2 categories for the App Store and one for Google Play.
Use press to impress
A press release for your mobile software should be both informative and intriguing. Here are some basic tips:
Keep it short.
Describe only core features, but give a hint that there`s more.
Don`t forget to use keywords!
Add links to downloading your app.
Publish it when you can reach more people. For instance, you will find recommendations for posting on Social Media.
Distribute it through proper channels. You need to connect to your potential customers and influencers whose opinion affects many others. Read a bit more about it below.
Promotion. More promotion!
Create a landing page for your application. With good SEO, fierce design and powerful CTAs.

Urban Walks

Polarr

If you already have a website - add download links. They must be easy to find.

TOPSHOP

Read Essentials for a Successful App from Google Play and Marketing Guidelines from the App Store.

Provide special offers, discounts, giveaways. Lure people and show them just how awesome your mobile solution is.

takeit

Put together a "killer" Press Kit. Get your flawless press release and add high-resolution logos, screenshots and icons, links to the app and the website, promotional videos to it. Pack everything into a single archive and you`re set! As all these materials will be publicly available, describe terms of use, restrictions and constraints (what people can and can`t do with them).

Sphero SPRK Edition Press Kit

Get people talking. Contact popular tech-oriented resources like Mashable, TechCrunch, AppAdvice, etc. If you get featured - attention is guaranteed!
Be social. Learn the basics of Social Media Marketing (SMM). Find relevant online communities and discussions (like LinkedIn groups or twitter chats). But don`t just blatantly advertise your product (well, that`s called spamming). There`s a problem and your app solves it, right? Then make submissions that have value on the topic.
Use mobile ads. But remember: if your ad is not engaging, it`s ineffective.
Get to the TOP
Your goal is not only to get discovered, but to get into the TOP 100 of the App Store or Google Play. And stay there. How do you achieve that? By using an approach called "Burst marketing":
Don`t waste any time. When your product is ready, launch it ASAP.
To be at the top of its category, your app must get max downloads at the shortest period of time.
Aim to get featured. To reach that goal you need to have a really great product with intelligent design and execution that falls in line with Apple`s or Google`s interests and policies. If you seize this opportunity, you`ll drive even more attention to your app.
When your download stats start going downward, give your marketing campaign another boost.
Monitor your app`s performance: use one of the mobile analytics and data services like App Annie, Localytics or Flurry.
Be open and accessible. Make it easy for customers to reach you, talk to them, reply thoughtfully, make them feel like their opinion is appreciated and cared for.
Final thoughts
Now you know a little bit more about mobile app marketing. If your goal is to create a successful, high quality product - get in touch! We`ll gladly apply all our skills to properly design, develop and market your idea. To kick-start your mobile project we can give you a professional quote (rough budget and time frames estimation).
open