Smart Office: Top-5 Devices to Make Your Business More Efficient

Imagine a smart office, where you can switch on the light from your smartphone screen, and scan a document in three seconds, while all important notes from your calendar are automatically saved on your computer. If you are looking for some innovations, here are 5 useful gadgets to make work in your office more efficient, and to enhance productivity and growth.
Mobile Scanner Mustek


Mustek iScan Air (S400W) enables the scanning of documents and pictures in real time via Wi-Fi connection. All files are saved in.webp or PDF on your computer, smartphone or tablet. You can scan about 400 pages per charge. The gadget is compatible with PC, MacBook, iPad, iPhone and Android. iScanner is highly functional, but compact - you can easily put it in a handbag.
Ultramodern Smartphone by HP



It was hard to surprise anybody after the last iPhone and Galaxy models were launched, but HP corporation made it. HP Elite x3 on Windows Phone supports Continuum function, i.e. makes it possible to use the device as a system unit. The smart gadget can be connected to any monitor, mouse, keyboard via a dock station and enable you to work with apps in full-screen mode. Connection via a network cable is also provided.
Corporate Line of Google Glass



After a dead start of customer line, Google Glass launched the corporate model family. Smart wearables by Google are widely used in medicine, production, media, transport terminals and warehouses. Corporate version differs from customer analogue by larger screen resolutions, enhanced battery and multi user interface.
USB
computer
by Lenovo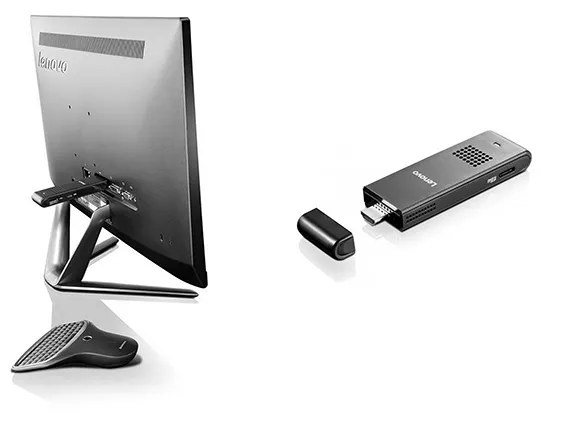 IdeaCentre Stick 300 by Lenovo — is a game changer in the world of portable devices. A stick-size PC is equipped with 2GB RAM, 32 GB data store, Wi-Fi, Bluetooth and 1,3 GHz CPU. You can connect this USB processor to any monitor and your PC with all apps, and your documents and files will always be at hand. This smart gadget can be used with your tablet and is indispensable for business trips.
Equil Smartpen 2



Equil Smartpen 2 is a real lifesaver for all office workers, especially in creative occupations. Making notes or drawing on paper, you automatically get the written information on your smartphone or computer. You can edit or send it to colleagues if needed. The gadget has 10 000 page memory so that you can use it even without a Wi-Fi connection. Write on any paper format up to A4 and synchronise the gadget via Bluetooth. One charging is enough for an eight-hour working day.
Wireless Laser Pointer iPin



iPin is an elegant miniature pointer to embed in a mini-jack slot. Download iPin app and control your presentation right from a smartphone screen. The gadget doesn't need additional charging, as it uses the battery of any Apple/Samsung device via the Wi-Fi connection, so its operation time is not limited.
The functional office devices can streamline everyday processes and simplify the lives of your employees, making their work more productive. Advanced gadgets and business apps help to solve different tasks, so why don't you make your office "smart"? These are only some examples of useful tools, while tech opportunities are boundless. If you have any idea for bespoke software development to digitalise your business, we are always ready to help.
open