9 Common Google Analytics' Errors: How to Fix Them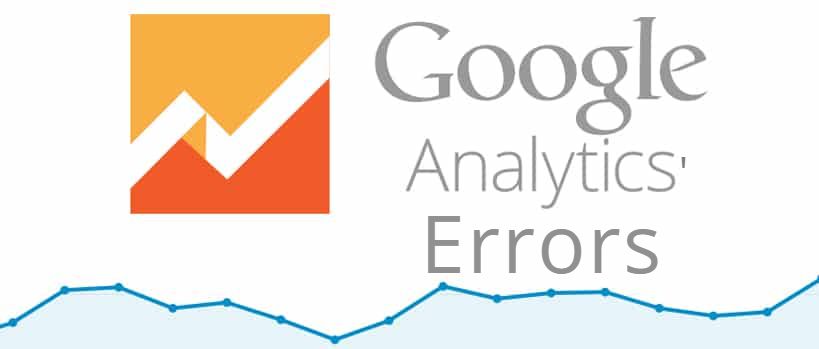 Data from GA is simply invaluable and makes it easy to get comprehensive information about the site. Despite of its apparent advantages, however, there are many discussions about its accuracy.
A list of 9 major errors you may face with Google Analytics
And the most frequent bug is the unrecognised traffic source, which is disguised as direct traffic.

Error # 1: Share of "Dark Traffic"
Dark traffic is hidden traffic, which you don't see, but it needs to be revealed as soon as possible. It masquerades as direct traffic, in email, social networks, organic search, and has many different guises.
Dark traffic distorts visitor statistics due to the fact that analytics platforms, including Google, don't easily track it.
Because of this, your advertising campaigns might not get the expected results. But the problem is further complicated by the fact that Google distorts the analytics of organic traffic.
To explore the amount of dark traffic on your site, go to Google Analytics and click on the link to see a custom report of direct conversions to your site.
You can prevent a lot of problems by putting tags for links from social networks (or from email) with the help of the UTM-builder. Google and Buffer offer easy-to-use UTM tools. Here is the link to the Google tool - https://ga-dev-tools.appspot.com/campaign-url-builder/.
All you need to do is put tags for the desired links - this completes the setting. But this solution does not always solve the problem of organic searching. Dark traffic will affect short, simple URLs - for example, the home page, because this is the first thing that visitors to your site see.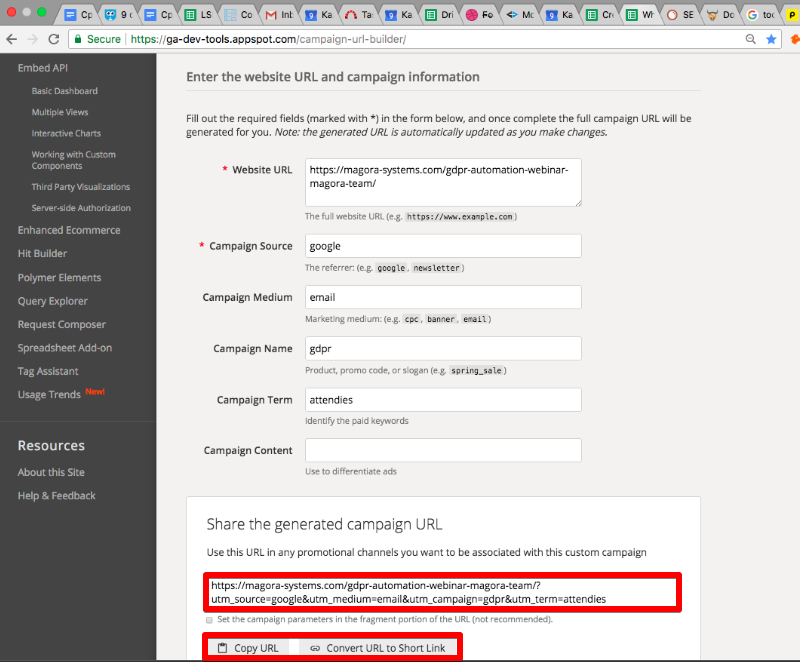 Pages with long URLs will suffer even more, since they do not have as much direct traffic. Using the UTM-builder will help fix this issue.
Error # 2: Hidden Social Referral Traffic
One of the problems with Google Analytics is that, according to its reports, it hides most of the traffic from Facebook, Pinterest and other social networks. Facebook and Google track visitors in different ways, so the results of analytics are mostly unreliable, making it harder for a user to determine which platform provides a more accurate analysis.
One of the main reasons for this difference is that Facebook Ads sends people to the built-in browser after clicking on the link. Such browsers do not work like traditional ones. This means that interaction with content will not be displayed as referral traffic from Facebook, although technically it is.
The problem is solved by Google URL Builder and UTM for each social network (Twitter, Pinterest, Instagram, etc.). For Facebook, try the URL builder from Google to track links without resorting to third-party services.
Create links using Google's URL Builder for use in all social networks, including Instagram, Pinterest, Twitter Ads, LinkedIn, VC and others. This will help you track social traffic that Google Analytics does not see.
"Missing traffic" shows that you should use UTM builders to get the appropriate data, otherwise this figures can be inaccurate.
Error # 3: Broken Links
This error is quite obvious, and the presence of 404 server responses to transitions inside the site can lead to unpleasant consequences - reducing time on the site and increasing failure rates.
We recommend that you scan the site in order to find the broken links. To do this, use Screaming Frog. It's a great tool to check all your errors, and for testing up to 500 pages of your site it's totally free. If your site is really big, you need to buy a license. Or you could do the test with the tool Xeny (only for Windows platform), and scan unlimited volumes for free.
To get rid of broken links on your site, do one of the following:
Remove irrelevant links from your site.
Replace with actual links.
Make 301 redirects from the missing URLs to the new ones, or to the most relevant to described topic.
Also note that if you were redirected earlier, and the final URLs started giving you 404 errors, you can easily find such pages through the Netpeak Spider.
Do not forget to regularly scan the site for bugs and fix them. If you need help the tool, which will monitor your site health and send alarms - SEMrush tool could be very helpful. If you are looking for the developers, who can create your customised solution - feel free to contact us.
Error # 4: Focus on the Metric
Traffic and pageviews are an easy way to track the progress of your website, right? The truth is that this data will not tell you anything concrete. It may seem that your site is doing well because of the large number of views, but it's not. If you have popular posts on your blog that have a lot of views - this is good, but if the bounce rates for these pages are high, then the views do not mean anything. People can click on the content, but immediately close the page, because they are simply not interesting.
That's why it's better not to focus only on metrics. Use other ways to assess whether your site attracts people.
If too many visitors leave right away, improve interaction with them or use a heat map to identify the problem. Add goals and analyse the conversion rate, integrate the monitoring of the phone calls and put the statistics of GA together with other data about transactions. Only when you can see the whole picture, then can you achieve good results.
Error # 5: Misleading Ghost Spam References
If you think that spam on a blog or in an email is not the problem you need to worry about, then you are mistaken. Ghost spam links can spoil traffic data from Google Analytics.
Although ghost spammers don't get access to your site, they send fake codes disguised as yours. Phantom spammers fall into your Google Analytics using the Measurement Protocol and can send false data directly to Google Analytics servers. Since visits from phantom spammers are fake, the statistics makes you think that you are getting more traffic than it really is. And it's bad for conversions.
Good news: you can identify these spam links and filter them using the add-in from Loganix.
If you do not want to register, simply add a ready-made add-in to your list of views.
Phantom spammers can be identified by drawing attention to 3 factors:
Is the source of traffic in the spam list?
Is there an invalid site in the host name?
Are there any unselected colors or incorrect screen resolutions that indicate that the site is fake?
To avoid this problem, make sure that Google Bot filtering is enabled.
To connect:
Click the "View Settings" link;
Scroll down to the "Bot Filter" and tick off "Exclude all attacks from known bots".
After enabling this function, traffic from known spammers will not be counted in analytics. Any spam attacks will be filtered out.
Error # 6: Positive A / B tests
A / B testing requires a lot of effort and usually does not bring great rewards. Your chances of success with the A / B test are very small, and you will need at least 1000 monthly conversions before you can see any significant results. Many people use only two options for testing, which results in significantly lower conversion rates.
You should try at least five options to see the real results, and this will require a huge effort from you. Simply put, the amount of time spent for the successful completion of A / B testing may not pay off. Often you get the results you already knew about.
For example, if you delete the form fields, the number of clicks on the button will increase. If you request a credit card when registering, the conversion will decrease. Do not require this from the user, and the indicators will go up.
If a large number of users visit your site, but their leads are of low-quality, then the positive A / B tests will not be correct. If you don't view the sales funnel completely, you will never know if the testing was successful.
On the other hand - multivariate testing is a good tool for the traffic giants. It's impossible to set multivariate testing, if you site visitors are below dozens of thousand per month.
Read how to set filters and segments here.
Error # 7: Focusing on Leads Instead of Sales
Google Analytics data can tell you about how many leads the campaign has brought. But how many sales have you made?
For example, one campaign can generate 70 leads, and another 100. And each of them can theoretically bring a conversion of 100%. Customers are more expensive than any lead. And this is without taking into account the lifetime value (LTV) of each client.
LTV is the main reason why the relationship between sales and marketing is so important. In fact, 36% of marketers believe that the correspondence of sales and marketing is the main goal of the campaign. Conversion factors are not as important as lifetime value. LTV allows the business to live long.
The only way you can track customers is to combine marketing analytics and sales.
Thanks to email tracking you can see when, where, and how people interact with your messages. Then you can use this information to customize your marketing decisions.
Don't forget that the successful promotion of the landing page leads to high conversion and profitable business.
Error # 8: High Conversion Costs
User behavior can be unpredictable. Some of the site's visitors can make the purchase in a month, or half of the year. So, you need to analyse the statistics on monthly and on yearly periods - to see the real channels, involved in the conversion.
Study the whole picture in order to get accurate results on conversion and costs. Some potential customers who saw your ads don't click on them immediately. They can be busy, distracted or in a hurry. But you will be remembered and later found out in the search engine. If such a user wants to make a purchase, then analytics won't be counted as direct traffic, although in fact it is. The customer bought the goods because he or she saw your ad.
How can you solve this problem?
Track sales. They suddenly increased after you started the campaign, although the analytics tool has not changed. Keep this information in mind for conversion rates.
Error # 9: Emphasis on Attribution of the Last Action
Last-touch attribution means that Google only takes into account the last user action before the conversion. But if you still don't understand, then Google likes to lie. And does it often.
Social tactics are not the main thing in sales. Organic and paid searching, along with e-mail is another matter. When people enter a query, they know what they are looking for. And they are ready to buy it.
Your address list is filled with past customers who are ready to make repeated purchases. But Google Analytics takes into account only the attributes of the latest actions. That's why you can't ignore the attributes of multi-touch. The user can perform dozens of actions before making a purchase. It is likely that one person browses your site from different devices. Therefore, you do not see every interaction with the brand, products or services.
You don't know how a person came to your site, how he or she found you, or what made him or her trust you. When it comes to the attributes of the last action, all your hard work with the audience, the promotion of content and the creation of potential customers are ignored. Google Analytics does not allow you to track this information because of privacy issues. You do not know the names, email addresses or any other specific information.
And if you try to get this data, you are in for a lot of trouble.
Google can write:
"Your Analytics account could be terminated and your data destroyed if you use any of this information."
Therefore, the tools from Google will help you only until you meet their privacy policy. This feature can't be fixed, so it is better to avoid becoming addicted to the attributes of the last action.
Concluding Note
Google Analytics allows you to quickly and easily get comprehensive information about your advertising campaign. But there are a lot of them, and most of the information is hidden from you, if you don't know where to look for it. If the service allows mistakes, then your whole strategy collapses. However, it is not difficult to fix these bugs.
Dark traffic is hidden everywhere. Email, organic search and social traffic are usually classified as direct traffic, although they are not.
You need UTM-builders. They tag links so you can filter out the true source of traffic and can help identify hidden referral traffic from social networks.
Misleading spam links can spoil all statistics. Therefore, they must necessarily be filtered out.
Don't forget about the positive A / B tests. In fact, they are not always successful. Remember that you first need to track sales, and the remaining data is in second place.
High conversion costs can scare you, but usually they are wrong. Analytics doesn't take into account most of the hidden factors.
Google Analytics data does not always reflect the correct or complete history of your marketing efforts. But if you know where to look, then you can easily find errors in statistics and correct them.
Now you are familiar with all the pitfalls of analytical tools from Google, but in order to create a successful site, you'll have to learn methods to increase conversion and search ranking.
If you want to get more options for GA reports accuracy, read here. And, working with the Big Data, you'll get additional limitations, because of the GA sampling principles, which automatically applies to enterprises with thousands of daily site visitors. In this case, we recommend creating a personal reporting system from scratch. Our experts will assist you in this.
open