Magora Webinar with James Watkins: App Development Costs in the Spotlight

The widely announced live webinar "How to Cut up to 50% off Mobile Development Costs" was conducted yesterday by our business consultant James Watkins.
Thanks to all who took active part in the event and asked questions to make it more interesting for the attendees.

We would also like to thank our presenter, James, for his professional presentation and practical tips.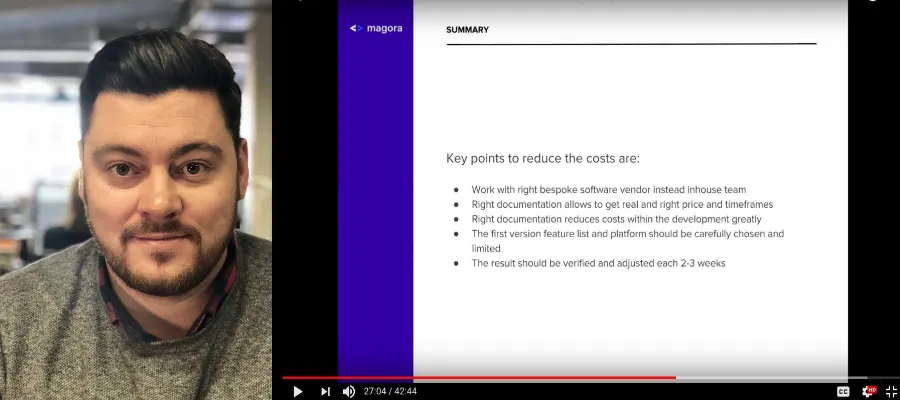 Since it was
our first time holding a
webinar
we'd
be
glad
to receive your feedback!
For those of you who

were unable to attend the webinar,

we're

sharing

this

recording

for you to explore

and share with your colleagues and partners.
The main issues covered were:
How to design the functionality plan for your app;

What can be outsourced and what cannot;

How to

communicate

with vendors in order to get precise cost estimates;

How to make a hit project while

keeping costs down and

avoiding common pitfalls

.
Watch this video and don't miss your chance to get a deeper understanding of the principles of software development and make your project more efficient!
Here is the document shared by James at the end of the webinar to help you structurise all the information on software development planning.
Please send us your suggestions for the next topic to be covered in Magora's webinars. Your questions are always welcomed!
open